JavaOne 2007 – The last demos: virtual reality, industrial robots, a submersible vehicle and a helicopter
Leonardo Galvão – from San Francisco, CA
Let's look at the four last demos in James Gosling's session, which were very well received by the audience.
Project Wonderland is a virtual 3D environment built with pure Java. It lets you organize and show .interactive information and avatars in three dimensions, and is based on the open-source Darkstar Project. Just these features would make for an impressive project, but a distinguishing factor is the project's capacity of enabling collaboration inside the virtual environment. This can be used to collaboratively solve problems, make design decisions etc. in a highly interactive fashion.
In the Wonderland environment, it's possible to interact with applications that are being run by participants – this includes Java IDEs and web browsers. The project creates many opportunities for creating collaborative and immersive environments. You can download the project at http://lg3D-wonderland.dev.java.net.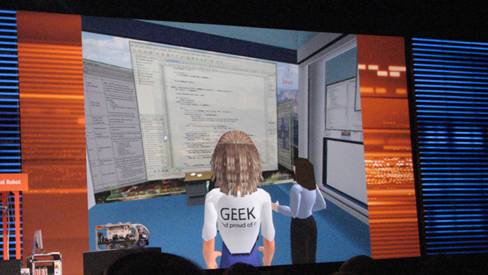 James Gosling's avatar attending a presentation in Project Wonderland's virtual world
For the next few minutes, Gosling spoke about new Java-enabled equipment: a meat balance that runs a JVM (and that can communicate with inventory systems, receive price updates, etc.), and an ATM with 100%-Java software.
The next demo involved robotics. Wowee and Sun engineers talked about their new "adult toy" product: a robot with a complete JVM and tens of sensors and other facilities. Three robots placed side by side made a small but exciting choreographed dance to the sound of "I'll Survive" (Gloria Gaynor).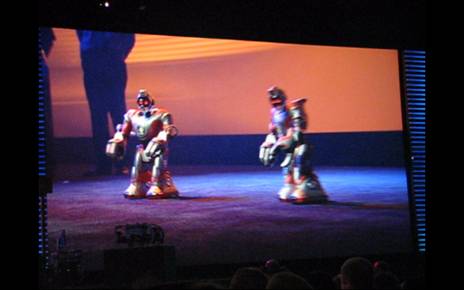 Java robot choreography: adult toys are a must at JavaOne
The next team to go onto JavaOne's main stage was a group of Swedish Sun Engineers. They demonstrated a high-precision robot that could accelerate at 10g. The focus of the demo was on precision, however. Fully operated by a Java system, the robot was programmed to precisely draw the edges of a specially processed photograph. The Java program that did the edge detection was actually created by James Gosling himself!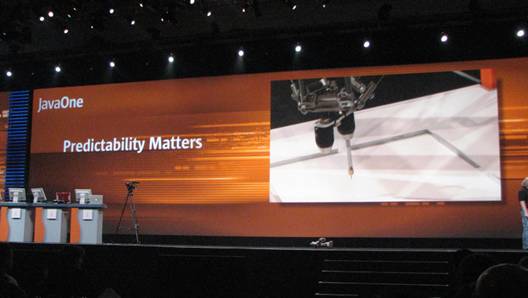 Industrial Java-controlled robot in action
The next demo showcased a submersible vehicle called SONIA (a French acronym for "Intelligent and Autonomous System for Nautical Operation"). The little "submarine" runs a Java SE VM and can be used for an array of applications, like checking underwater cables and conduits. Though it's only a prototype, SONIA demonstrates the viability of a number of autonomous Java-based devices.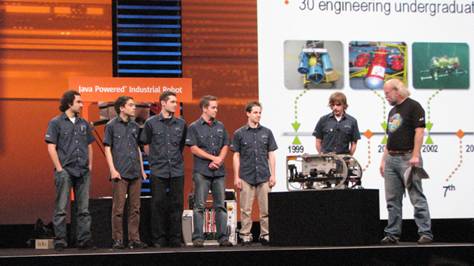 The SONIA submersible vehicle won a Duke's Choice Award
Finally, the CEO of Perrone Robotics, who has been to the JavaOne stage in earlier years, brought in a small helicopter (Java-operated, of course), capable of capturing and processing images in real time. It can be used, for example, to explore dangerous or inhospitable areas, or to inspect areas inaccessible to manned vehicles.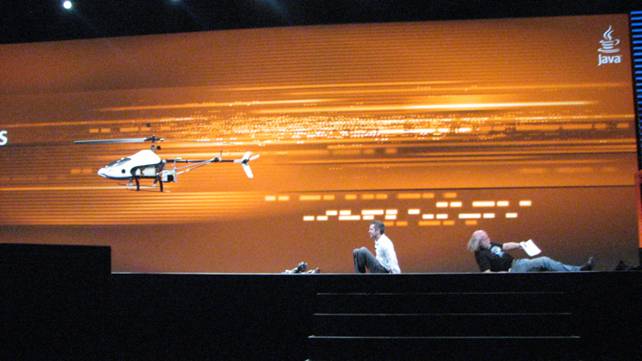 The spectactular entrance of the Perrone Robotics helicopter.
With this, we end our first Mr Bool JavaOne coverage. See you at JavaOne 2008!