JavaOne 2007 – More demos: NetBeans 6 and Java printers
Leonardo Galvão – from San Francisco, CA
The fourth demo in Gosling's General Session was dedicated to NetBeans. Tor Norbye, known at Sun as the "NetBeans Guy" and notorious for his dynamic fast-moving demos, presented a variety of new IDE features. He started by implementing a JPA-based Java application using many of the new NetBeans code editor's productivity features; then, with the help of a NetBeans Ruby plugin, Tor created some Ruby-on-Rails code and integrated it with the Java app. It was a solid demo that showcased some enticing NetBeans 6.0 features, as well as the IDE's openness to other languages and technologies.
For the next demo, an engineer from Sun (Mobility) and one from Ricoh were called to the stage. Ricoh, one of the largest manufacturers of color laser printers, is participating in its fourth consecutive JavaOne. Its printers have supported Java for years, and the current printers' software is based on CDC and the Foundation Profile. In the demo, a photo of James Gosling was taken with a mobile phone and sent to the printer through a Bluetooth connection. Using the Java-based printer management system, Sun's presenter set some configurations and finally printed the photo in high definition.
The printer demo wasn't over yet. Two Duke's Choice Award winners (2007) were brought to the stage to show how to control the Ricoh printer remotely from a MIDlet. The Java ME application, which runs on a Blackberry phone, allows users to manage printer jobs in detail.
These demos were yet another proof of Java's versatility, and of the ever-expanding possibilities the technology provides for integrating very diverse devices and networks.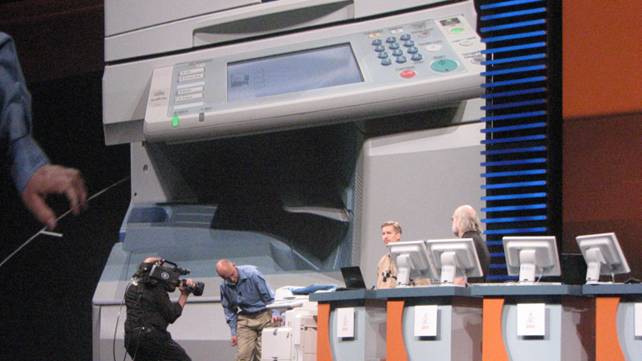 A Java-managed Ricoh printer in action