JavaOne 2007 – Maximum openness, open possibilities
May 9, 2007
Leonardo Galvao, from San Francisco - CA
Here we are again, at JavaOne. It's the fifth consecutive edition of the world's largest developer conference Java Magazine is taking part of. The highly anticipated opening General Session brought plenty of exciting news. We'll have a lot to talk about here.
Sun Microsystem's Chief Scientist, John Gage, took care of the first minutes of the presentation in the packed session room (an estimated 12 thousand were present). As usual, Gage invited attendees to interact and participate widely. "Don't be shy", he said, and using his already classical phrase, "Be Brazilians!", he urged everyone to be as open as possible to new contacts and new possibilities.
After providing some essential information about where Java technology is heading and where it is now, showing some high-powered Java phones on the stage, and reminding the audience that we would have 81 hours of conference activities ahead of us, Gage called Rich Green (Software VP) to the stage. Rich took over for most of the rest of the session.
In the front rows, where I was sitting together with the Brazilian group, we also had some very important company from the global open source community. From the creator of the Kaffe VM (Dalibor Topic), to Sun's Open Source CIO, Simon Phipps – to Apache Software Foundation leaders, engineers from Red Hat and Free Software Foundation stars… many great minds of open source were present.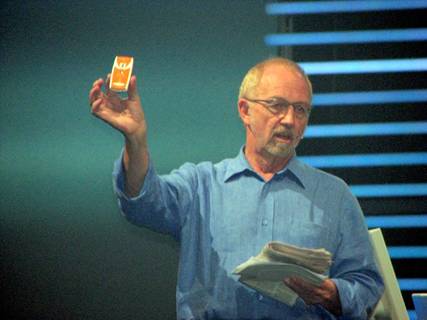 John Gage begins the conference and highlights the ever-growing adoption of Java in cell phones and other devices.
The open source community was there en masse for a reason. The first day's great announcement was the completion of the opensourcing of Sun's Java SE implementation. Now practically all of the code in Sun's JDK is GPLed and hosted in the OpenJDK project (https://openjdk.dev.java.net).
Being a little more precise, all that could be opensourced in the JDK implementation was opensourced. There are still a few classes and packages that are "encumbered" by intellectual property issues – their authors didn't authorize the opensourcing. Their reasons, some people say, were not very noble ones, but what can we do? A lot, actually. The Open Source community has kicked in and is already working on the missing parts. While they fill the gaps, Sun has made available the encumbered parts as binaries, so you can build and work on the OpenJDK source code right now.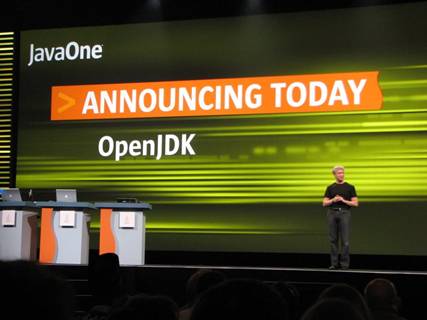 Rich Green announces the full opensourcing of Sun's JDK
Another important news item is the launch of a brand new Java technology, JavaFX. Though still under active development, JavaFX already brings a great deal of new interactivity to Java applications, both on the Web and on cell phones. It's based on the Java platform, so it's actually an enhancement that can be supported with very little hassle in millions of Java-enabled devices and computers available today.
That's it for now. We'll come back with lots more of Java news. Be sure to come back for more: this JavaOne is positively energized!