JavaOne 2007 – Demos bring color to the last General Session
Leonardo Galvão – from San Francisco - CA
Keeping the JavaOne tradition, James Gosling was the host for the last General Session at JavaOne 2007. There were in all twelve very interesting demos covering a variety of areas and applications.
James Gosling commented that he spent many weeks preparing for this extremely popular session: performing tests and rehearsals, organizing the demos, and managing the creation of some of the necessary infrastructure. He even participated in one of the demonstrations (as we saw later) by creating an image processing Java app to communicate with an industrial robot.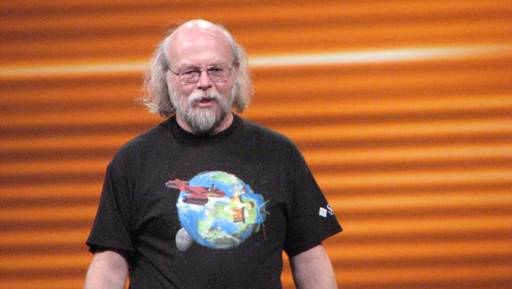 Gosling hosts twelve demos in two hours
The first demo showcased Dtrace, a powerful Sun tool that has been rapidly widening its scope and functionality. Dtrace was used to profile a Java program, and we could see real-time execution details like CPU usage, disk access (at the byte level) and many more. The generated charts are interactive; clicking on them takes you to the related source code.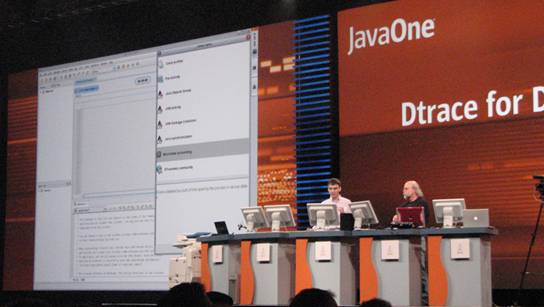 Demostrating Dtrace, an advanced profiler for C/C+= and Java appplications
The next demo focused on grid computing. A set of 33 groups of calculations were done completely in parallel in a grid located hundreds of miles away. What would take 8 minutes to compute, took just 15 seconds (the time necessary for a group of 3 computations of a total of 99). The client application was built with Java and integrated with OpenOffice.org Calc.
The grid architecture has been in focus for quite some time, and applications have been making increasing use of it. Java applications of course, are especially well positioned to take full advantage of grid computing facilities. And investments in grid technology and specialized applications as well as APIs are being made by top IT companies, like Sun, IBM and Oracle.
See more about the demos in the next posts!