It may not look it, but getting links to your website is easier than you think or what you hear out there, make quality content and just watch the numbers grow, oops! It was bad, the process is a little more work, but the result is right. The links on the Internet can be compared to the word of mouth, the basic idea of this technique is to get other sites that have links pointing to your site so their popularity increases and your site is listed on the first pages of search engines, currently here in Brazil can say that the focus of the vast majority of website owners is the first page of Google, the number of links pointing to your site is one of many factors that search engines take into consideration to give due importance to the your site. It is a process similar to what happens when a neighbor recommends a good plumber in real life theoretically an indication of the person next to you has more weight than a pamphlet you picked up on the street, the idea is the same on the Internet are many links pointing to your site means that something interesting your site has. Some time ago the rule was linked to any price today struggle to get links must be done in a more structured and planned as search engines already do the reverse process ie no use just having links pointing to your site is worth who are pointing much more than how many are pointing to you some techniques and tools help you get quality links to your site.
Find places to put your link
Look for the grass is never enough, after all why this grass it greener? A tool to search backlinks BacklinkWatch helps you figure out how many links are pointing to a specific URL and most importantly those who are pointing to that URL, there are several other tools even better than this, but in this case this already solves our problem.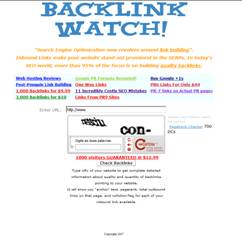 The tool is very simple, enter the URL of the site you want to analyze and click checkbacklinks.
After a few seconds you will see a table with various information and one of them is the total amount of links pointing to the domain.

Soon she begins listing below link by link pointing to the domain you are researching, and this method is very costly, but can yield good links you miss a few hours reviewing this list in a few months and you will have a great list of good places to spread the link of your site. In the free version of this tool it will only list you thousand links.
The idea of ​​this is to see who is pointing to your competitor's site, you click and examines what it is about that link, a link can come in many forms, banner advertising, post, link reference, indication, and several sites directory other methods. Stay tuned to a point, after finding a possible place to put your link analyze the quality of that site, consider the pagerank, time domain, niche site and popularity only after analyzing this chase some method to achieve this links, whether coming into direct contact with the owner of the site or enrolling in some sort of list or service, a site with a bad reputation that points to your site may harm your site.
Find and create good content for your site
Another technique that may benefit you is to talk about issues that are high on the Internet, this video get banned, no one has a photo of a product launch or car, the approved list of some competition and so on. is also a good method to sites that point to you spontaneously, this kind of link is that the search engines value most.
Make sure that your website is worth a link, your website has to offer some content that is worthy to be appointed within other sites. If your site only sells products and services you need to create additional content related to your product or service, if the service is worth create content covering topics such as "how to", case studies and tips to the audience of your niche because if your site is to create products reviews and comments about the products on your site, it will never copy your chances provider of such content already available on the website of the supplier is huge, so you'll be creating duplicate content and it is not not relevant to the searchers and much less for users.
Find out who your readers are, those seeking the information that you provide, those interested in the subject you write. Knowing who your readers are, the first step to developing good content is to discover what are the most talked about subjects, create a good post and from this set of keywords which will have an important role in a search, the tool of Keyword Tools Google helps you and that very task of defining keywords with it you can see the search volume for a particular term.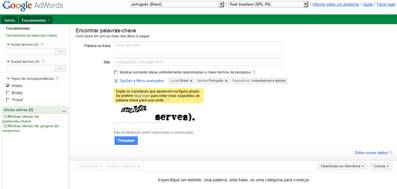 Fill in keyword or phrase to terms that you find interesting and see if there are people looking for it on Google.
At the top it shows the level of searches for the exact term you typed below sãomostradas ideas of keywords that can be of the same niche, so you can understand how the user searches for a particular subject.
After deciding to make the term the term to competition between Google and search for the term you are interested, check the amount of indexed links for that term, the lower the amount of indexed links the greater the chances you get in first same page your site with little authority.
After that create content and spread through social networks and on partner sites mainly in the sites you found analyzing your competitors. This is a relatively costly work, but I guarantee you one thing worth being.